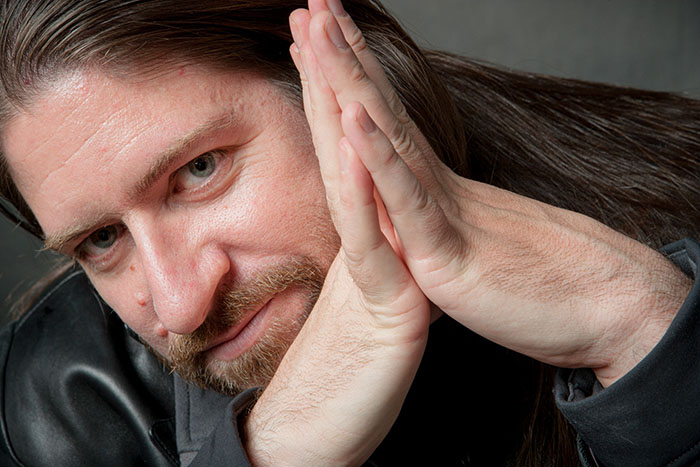 I've written most of my life and studied writing in college, earning a BFA with a double major in art and literature. Writing about creativity and photography (technically and conceptually) for over twenty-five years, I grew increasingly hungry to express myself in other ways.
In 2019, during the first Youth Climate Strike, I saw a young poetess make a video presentation and have even more emotional impact than 45th vice-president Al Gore as he trained us to make effective presentations through his Climate Reality Leadership Corps. Her performance helped me understand that I didn't need to change my social activism but rather intensify the ways my artworks are socially active.
In 2020 Covid-19 shut down my in-person digital printing workshop and made it possible for me to attend Richard Blanco's chapbook workshop offered online the same week. I had a thirty-year bucket list item to write a series of love poems to the earth and I saw this as an opportunity to complete it. It became much more than that. I hadn't planned to write a poem a day for a year – or be trained as a
voice actor
– but that is what happened. Poetry helped me survive and thrive during the Great Pause.
In 2021, after fifth inaugural poet Richard Blanco's workshop, I learned the young woman who impressed me so much became the next inaugural poet Amanda Gorman.
Poetry has become a daily part of my spiritual practice and an integral part of the ecosystem of my creativity.
For me, the visual and the verbal are inseparable.
Whether visual or verbal, my passion is ecopoetry (making art as a way of understanding earth) and ekphrasis (making art as a way of understanding art),
though it may only be language itself that separates art from e art h
or nature nature from human nature.
Poetry & Creative Nonfiction
,,
,
43
What's Wild In You
Eco Theo
January, 2024
42
Licking Icebergs
Neologism
January, 2024
41
Rising
It's Raining Birds
The Maine Standard
January, 2024
40
Robin"
Flash Frontier
December, 2023
39
Not It
Listen
The Shallow Tales Review
November, 2023
38
under a waking mind
Heliosparrow
November, 2023
37
Quiet
Listen
Duck
Listen
The Sandy River Review
November, 2023
36
new moon
searching frantically
Akitsu Quarterly
November, 2023
35
memories ripple
Tiny Wren Lit
The Half-Life Of Echoes Anthology
November 2023
34
the last persimmon
Presence
Issue 76
November 2023
33
Rocks
Listen
Strange Music
Listen
Steel Jackdaw #12
October, 2023
32
clock
Pebbles 3
September 2023
31
Polaris Australis
Listen
Kokako
Issue 39
September 2023
30
Looking At My Landscape
Listen
Landscapes Within Landscapes
Sordoni Gallery, Wilkes University
also included
poems – 30, 21, 19, 10
creative nonfiction – 16
May 2023
29
It's Raining Birds
Still Points Quarterly
May 2023
28
How I Become A Place
Listen
I You They Us We
Listen
Spire
April 2023
27
Superman Has A Fortress Of Solitude In Antarctica
Listen
Indelible
April 2023
26
Invisible Deluge
Listen
Masque & Spectacle
March 2023
25
Morning Music
Listen
Sonic Boom
March 2023
24
Talk
Wild Roof Journal
March 2023
23
Haiku
snow drifts
Cold Moon Journal
January 2023
22
Haiku
hook cast through the air
Scarlet Dragonfly
January 2023
21
The Department Of The Interior
Listen
Tiger Moth Review
January 2023
20
Struck
Pass The Flame
Cathexis Northwest
December 2022
19
What I Do To The Earth I Do To Me
Listen
Little Blue Marble
Anthology 2022
December 2022
18
Eye
Listen
The Wild Word
December 2022
17
Waking To Antarctica
The Royal Photographic Society Journal
November 2022
16
November 2022
15
Test For Echo
The Dewdrop
November 2022
14
Echoes
Last Leaves
Fall 2022
13
Thumped
Mono
September 2022
12
Play A Little Longer
August 2022
11
wind in the grass
Blithe Spirit – 32.3
August 2022
10
Talking With Eliot Porter
Listen
Drifting Sands
July 2022
9
I'm At Home And Life's At Home In Me
Listen
Wilderness House Literary Review
July 2022
8
Hooked
Ruminate
Issue 62
June 2022
7
Horologion
Littoral Magazine
Summer Solstice
June 2022
6
Quoth
Germination
(Chris White Memorial Award Honorable Mention)
The Mountain Troubadour
75th Anniversary Issue
May 2022
5
An Unholy Alchemy Of Color
Four Ways of Seeing One Great Wave
Ekphrastic Responses To My Antarctica
The Ekphrastic Review
April 2022
4
My Antarctica
FRAMES
April 2022
3
Haiku
Lux
March 2022
2
End Days – Matter
(Finalist)
Oprelle
2021
1
This Our Blackened Land
The Farnsworth Art Museum
April 2021
.
.
Readings
Camden Festival Of Poetry
May 20, 2023
Honor The Earth
The Poet's Corner
Apr 23, 2023
.
Poems Of The Night Sky
The Poet's Corner
Jan 8, 2023
Collaboration With Meg Weston
The Belfast Poetry Festival
Oct 15, 2022
Three Simple Lines With Natalie Goldberg
The Santa Fe Workshops
May 24, 2022
Ecopoetry – Voices For The Future
The Poet's Corner
April 10, 2022
Eco-Poetry: Voices Of The Earth In Crisis
The Farnsworth Art Museum
April 10, 2021
Celebrating Earth Day 2021
Rockland Public Library
minute 6:50
April 10, 2021
Open Mic
The Poet's Corner
minute 22:45
July 18, 2021
Love Unmasked
The Poet's Corner
February 14, 2021
Fire & Ice
The Poet's Corner
December 13, 2021