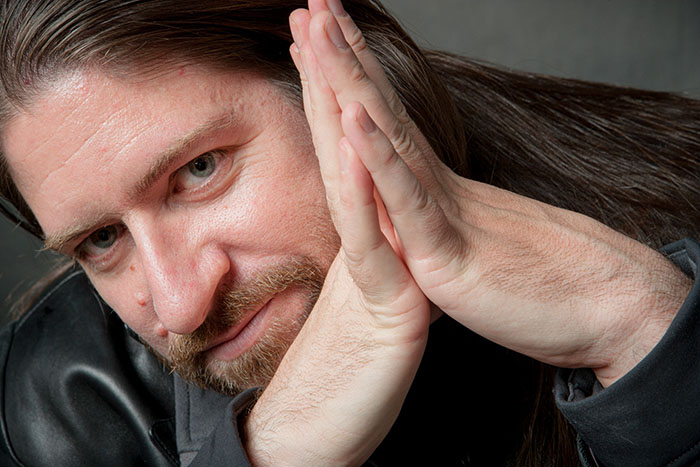 I've written most of my life and studied writing in college, earning a BFA with a double major in art and literature. Writing about creativity and photography (technically and conceptually) for over twenty-five years, I grew increasingly hungry to express myself in other ways.
In 2019, during the first Youth Climate Strike, I saw a young poetess make a video presentation and have even more emotional impact than 45th vice-president Al Gore as he trained us to make effective presentations through his Climate Reality Leadership Corps. Her performance helped me understand that I didn't need to change my social activism but rather intensify the ways my artworks are socially active.
In 2020 Covid-19 shut down my in-person digital printing workshop and made it possible for me to attend Richard Blanco's chapbook workshop offered online the same week. I had a thirty-year bucket list item to write a series of love poems to the earth and I saw this as an opportunity to complete it. It became much more than that. I hadn't planned to write a poem a day for a year – or be trained as a
voice actor
– but that is what happened. Poetry helped me survive and thrive during the Great Pause.
In 2021, after fifth inaugural poet Richard Blanco's workshop, I learned the young woman who impressed me so much became the next inaugural poet Amanda Gorman.
Poetry has become a daily part of my spiritual practice and an integral part of the ecosystem of my creativity.
For me, the visual and the verbal are inseparable.
Whether visual or verbal, my passion is ecopoetry (making art as a way of understanding earth) and ekphrasis (making art as a way of understanding art),
though it may only be language itself that separates art from e art h
or nature nature from human nature.
Poetry & Creative Nonfiction
Talk
March 2023
Haiku
January 2023
Haiku
hook cast through the air
January 2023
The Department Of The Interior
January 2023
Cathexis Northwest
December 2022
What I Do To The Earth I Do To Me
Little Blue Marble
December 2022
Eye
The Wild Word
December 2022
Listen
Waking To Antarctica
The Royal Photographic Society Journal
November 2022
Why I Photograph
November 2022
Test For Echo
The Dewdrop
November 2022
Echoes
Last Leaves
Fall 2022
Mono
September 2022
Play A Little Longer
August 2022
Haiku
wind in the grass
August 2022
Drifting Sands
July 2022
I'm At Home And Life's At Home In Me
Wilderness House Literary Review  
July 2022
Hooked
Issue 62
June 2022
Summer Solstice
June 2022
Quoth
Germination
(Chris White Memorial Award Honorable Mention)
75th Anniversary Issue
May 2022
An Unholy Alchemy Of Color
Four Ways of Seeing One Great Wave
Ekphrastic Responses To My Antarctica
The Ekphrastic Review
April 2022
My Antarctica
April 2022
Lux
March 2022
End Days – Matter
(Contest Finalist)
2021
.
April 2021
.
.
Readings
.
Poems Of The Night Sky
The Poet's Corner
Jan 8, 2023
Collaboration With Meg Weston
The Belfast Poetry Festival
Oct 15, 2022
Three Simple Lines With Natalie Goldberg
May 24, 2022
Ecopoetry – Voices For The Future
The Poet's Corner
April 10, 2022
Eco-Poetry: Voices Of The Earth In Crisis
The Farnsworth Art Museum
April 10, 2021
Rockland Public Library
minute 6:50
April 10, 2021
The Poet's Corner
minute 22:45
July 18, 2021
The Poet's Corner
February 14, 2021
The Poet's Corner
December 13, 2021